With the Stanley Cup on its way to

Detroit

, I thought we should maybe recount some of the great situations Lord Stanley's hardware has found itself. Remember, players are given the opportunity to take the cup home with them for a day. Now that the Cup was a security team, the shenanigans have been taken to a minimum.

So Buzz Bissinger doesn't come after me, here are my sources. Check'em out here and here. Also, in Kevin Allen's Why is the Stanley Cup in Mario Lemieux's Pool?

12. Mario Lemieux and Patrick Roy went swimming with it. I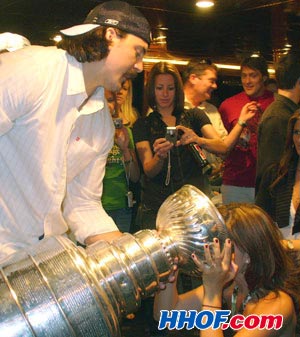 hope they gave the cup some swimmies.
11. Attempt to drop kick it over the Rideau Canal in Ottawa and fail like the 1907 Ottawa Silver Seven. It was just a bowl back then
10. The 1940 New York Rangers pissed in it beginning a tradition of being the most classless organization in hockey.
9. Joel Stein used it to get a table at the Four Seasons
8. Bryan Trottier slept with it. "I wanted to wake up and find it right beside me," he reportedly said. I hope he bought it a drink first.
7. Put your dad's name on it like 1984 Oilers owner Peter Pocklington. This would never have happened if the Isles won their 5th straight.
6. Steve Yzerman showered with it
5. Kristen Bell would take a sponge bath with it.
4. In 1987, Mark Messier brought it to a strip club. No surprise he was soon traded to the Rangers where he did it again in 1994.
3. Eddie Olczyk allowed 1994 Kentucky Derby winner, Go for Gin eat oats from it, and 1980-1983 winner Clark Gillies let his dog eat out of it.
2. Brian Noonan of the Rangers brought it to the MTV Beach House where it served oysters. He would not have been let in otherwise.
1. Stefan Lefebrve had his son baptized in the Cup. Keep you eyes open for a younger Lefebrve – I would not want to drop the gloves against someone with the Big Guy on his side.
A couple more, which haven't been done yet...
Take the Cup to Messier's house and see where the night takes you.
Make it the "Bonus 11th Cup" in Beer Pong.
Take it to Kristen Bell's
Run away to a remote Island with it.
Bring it to the Islander's front office and remind them of what it looks like
Hit Mike Milbury in the face with it.
Eat 5 boxes of Kraft Mac and Cheese from it
Walk through an airport metal detector and say, "It must be my belt."
Add Wolf "The Dentist" Stansson to the 1928-1929 Bruins and see if anyone notices.
See if Brian Noonan every left the MTV Beach House. I suspect he is still in there or at least what is left of it.