GM:
So Michael Vick gets vilified for running a dog fighting ring, but things like
this
are deemed adorable? I personally would love to see some animal boxing going on. Maybe some sort of professional circuit, it's got to turn out better than "Rocky Balboa." Yes, what Vick did was deplorable, but it'd be like battlebots without the nerds, or just a different kind of nerds, sort of like Kung Fu Panda without the voice over acting.
Skadoosh
.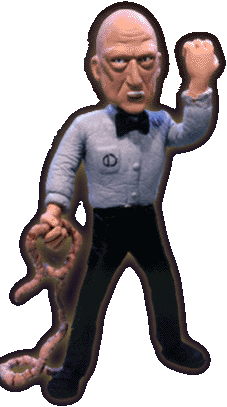 NC: That cat will mess you up. Do you see the intensity and determination that it trains with? If only Allen Iverson had that kind of work-ethic. The only thing people like more than kittens is kittens dressed up in funny costumes. Putting some sparring gear on some felines and have'em go at it. Is Mills Lane available?
Let's switch gears to the National Football League. Tickets went on-sale for the Cheerio Bowl (let's hope that name sticks) at Wembley Stadium in London. This year the Chargers and Saints will travel across the pond to square off on the famous pitch. My question to you Miscondcut is should the NFL continue to have regular season games in the UK? And can Wembley's pitch handle the likes of Lorenzo Neal and Antonio Gates?
GM: One game of ticket sales is great and all, but didn't NFL Europe just fold? I understand having gimmick games, once a year, similar to the NHL's Winter Classic, but in a 16 game season, having teams travel across the ocean just for one week seems silly. Then again, with the economy heading in its current direction it's probably great for the league and the owners to be making some money in Euros or Pounds. This is clearly a great business move, but hurts the American fans because many miss out on the home game that is sacrificed. Now, playing a preseason game, or removing a preseason game and having a 17 game schedule wouldn't be such a bad idea…
NC: It seems to make good business sense. Wembly's 81,000 seats are projected to be sold out again and the game draws great revenue. From a football stand-point, the game provides great international exposure for the game, which could perhaps spring up more appeal for the game abroad. The other major sports (especially hockey and baseball) heavily draw on international sources of talent. This not only creates more opportunities for revenue but increases the competitiveness of the sport. The international flight is a bummer, Wembly's pitch, as we have seen, can prove to be not quite as durable as an NFL field, and a team sacrificing a home game could be costly, but all in all, bringing football to the international stage is a good idea.

GM: I see it as a great business opportunity, but I don't imagine the NFL catching in Europe at the same popularity it has in the States. Think of how many people at last year's game were American expats… it was probably a very large percentage. I don't see the NFL going into Europe permanently, like I said once a year is probably the most they'll do. But being the most successful of the major pro sports in America means they know what they're doing and think through their decisions… Hello Houston Texans! With the different field conditions, players are probably more susceptible to injury, but the players' union obviously agreed to this venture, and they've never let the players down right? At least not while they're still in the league.
NC: I don't think anyone is calling for the inclusion of the London Silly Nannies into the NFL. Having one regular season game where teams can truly show off how competitive and how intense the sport is would do well to develop football at the grassroots. Once players are developed in foreign countries, they make their way to the NFL. Just like in the other major sports.
GM: So we both agree that one regular season game a year is great for the league, the future ramifications are where we disagree. I see Europeans embracing it as well as we have embraced the MLS. The league is clearly growing, but it will never be a powerhouse like the NFL.
NC: Yea, "European American Football" (first thing's first, that name needs to be shortened) is not even along as far along as the MLS. But it's all about grassroots. The only way to develop a successful professional league is develop young players to one day play at this high level. Like you mentioned, the MLS is doing wonders for soccer's grassroots. Who knows, maybe one day the football world championship will be played between the winner of the US league and the winner of the European league?
GM: That's an intriguing possibility, but it's very far off. I would like to see some sort of Global Championship in a lot of sports, similar to the UEFA Champions League, but with regular season, playoffs, and international competitions that opens up the possibility for players having to play possibly 150 games. That's a lot of travel and wear and tear on their bodies unless leagues are willing to cut down on regular season games. But then owners are potentially losing revenue from home ticket sales.
NC: An event "bigger than the World Cup, World Series, and World War II combined?" I like it! Alright, let's wrap things up with the plight of Barry Melrose. Melrose, of course, is the only surviving analyst since ESPN's "great purge" of hockey coverage after the lock out. Now that Don Cherry has joined the coverage (even if it is for 5 minutes a week), Melrose has officially become the second-best dressed and this seems to bother him, as he may jump ship to coach in Tampa. Misconduct, what do you think of Tampa switching Tortarella for the best mullet in the business?
GM: I'm on the fence about this one. I love Barry the analyst for his gimmicks and the Hockey Falls commercials, but Barry the Coach hasn't coached in the League since 1994-95. That's a long time to be out of coaching. Torts is a great coach but his schtick has probably worn thin in Florida, and their losing season was probably the nail in the coffin, but he's got a ring and Vinny Lecavalier's (now the face of the franchise) success to take to his next interview. Back to Melrose…This is probably new owner Oren Koules wanting to put his own stamp on the team and more publicity. With Steven Stamkos, Vinny, and Marty St. Louis the team will be fun to watch, but until they find a competent goaltender and some roster depth, this team will be just as bad
as they were last year. But a team built around Stamkos, Vinny, and John Tavares or Victor Hedman (next year's top players) seems pretty enticing. Melrose or not, this team will struggle. But he would definitely bring notoriety to the team. Whether or not he can still coach is another issue.
NC: It's an interesting spot for Tampa. I think Torterella will quickly find a new home. He is a great coach and, of course, has the resume to prove it. I agree, Tampa is certainly rebuilding and will need a few seasons to develop its young talent. Unloading Brad Richards at the deadline made this very clear. Tampa should be looking for a coach that is solid with young player development. I wonder if Melrose is the guy for that? He had a lot of success in WHL and AHL (won the Calder Cup in 1992) with young players. He then had a mixed career in the NHL. He took the Kings to the Stanley Cup finals and then had two losing seasons before being replaced. I say we give Barry the benefit of the doubt. He certainly knows the game well and has had some success as a coach. It will be interesting to see how much latitude he gets from the new ownership and how short of a leash he will have with this rebuilding team.