Happy Friday, y'all. Speaking of which, whatever happened to TGIF? Remember Friday night's on ABC? Family Matters, Boy Meets World, Step by Step, what a line-up! Throw in Hangin' with Mr. Cooper in the slot. We're talking the Murderer's Row of Sitcoms But that's for another day. It's time for the Friday chat and in honor of TGIF, we have brought in some guest bloggers. Game Misconduct will be getting a little help from Cody Lambert from Step by Step, and Net Crasher will be taking Mr. Feeney from Boy Meets World as my tag team partner. Today's topic is NHL Western Conference Finals….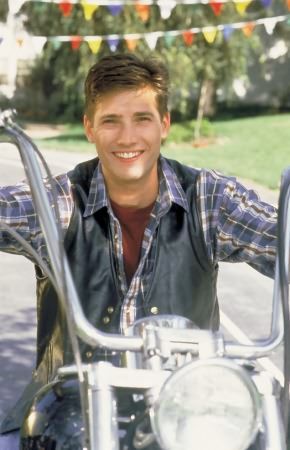 Cody: Whoooaa, it's the Code-Man, ready to break down some pucks with the always righteous Game Misconduct. I watched Game 1 out in my van with a gallon of Tang and some Bugles. And, dude, did the 'Wings look good….
Game Misconduct: Right you are…bro…I hate to say it but after watching Game 1 it's probably got to be Detroit. Dallas has stronger goaltending, but that's the only advantage I think they have, but Osgood has been very good, so it's almost a wash

With Johan "The Mule" Franzen the hottest forward in the league to go with Selke finalists Datsyuk and Zetterberg, as well as Tomas Holmstrom, I think the Wings are too deep up front. What's scary is that while extremely talented they are also very disciplined, and they have been for quite some time. Coach Mike Babcock has to be given credit and has proved himself to be a fantastic NHL coach already having led the Mighty Ducks to the Stanley Cup Finals in 2003. One interesting point regarding Detroit in this year's playoffs is that they have yet to face a 100-point team up until now. That may be caused by the parity in the conference or the fact that they were the #1 seed. They also were lucky in the sweep against Colorado because "Burnaby" Joe was the only member of the Avalanche to show up for the series, while most of the team was injured or completely collapsed (AHEM Jose Theodore). Dallas is deep down the middle with Modano, Ribeiro, and former Conn Smythe winner Brad Ricahrds, but thin on the wings. When Brendan Morrow replaced Modano as captain a few seasons ago I thought it was a slap in the face to one of the greatest American hockey players, but it looks to have been a solid move by both the players and the team as Morrow has willed his team to wins this playoff season. The playoffs were made for this guy.
Cody: Speaking of Captains…I went hunting with Frank and JT the other day and…
Game: Detroit's backline featuring All-World D-man Nik Lidstrom, followed by Rafalski, Chelios (yes, he's still playing), Kronwall (finally seems to be fulfilling his potential), and Brad Stuart (is there a career this franchise can't resurrect? Paging Alexandre Daigle) Detroit seems just too deep. Dallas D-corps seems either very old with Zubov and Norstrom or very green Daley, Fistric, and Niskanen. Zubov has been there before, and Norstrom is a warrior but they just don't compare to the firepower that Detroit can throw at you

As painful as it is, Detroit is too talented and too well coached, so I'm going to have to say Detroit in 6.
Feeney: Mr. Net Crasher…wake up…Mr. Net Crasher it's your turn to speak
Net Crasher: Huh? What…What are we talking about?
Feeney: You were supposed to give a presentation about the Western Conference Semi-Finals…perhaps Mr. Minkus can help you out…
Stuart Minkus: In 1993, the Minnesota North Stars moved south to Dallas…
Crasher: Shut Up, Minkus!
Man, do I want to take the Stars. They had some great momentum from the San Jose series and you can't say enough about the goaltending of Marty Turco. 8 wins with a shutout in the post-season and a .924 save percentage. Not quite the statistical equal of Chris Osgood, but let's remember the competition here. As a five seed, Dallas had to go through San Jose and the Ducks (both who were in the conversation for winning the cup this year).
Feeney: But alas, game one will prove costly for Dallas, especially since Turco is 0-8-2 at Joe Louis Arena.
Crasher: Yes, thank you, Mr. Feeney
You can't look past the unreal offensive prowess of the Red Wings who lit up Turco for 4 last night. Datsyuk, Zetterberg, Holmstrom and of course the playoff's hottest player in Johan Franzen. I am with Game Misconduct here, it doesn't get much deeper than the Detroit offense. My pick (way to go out on a limb here) for the Norris Trophey, Nicklas Lindstrom anchors a strong blue line (Brian Ralfaski was a great acquisition) and Chris Osgood (yet another Islander expatriate) has been the best goalie on paper in the playoffs.
Of course, Dallas is on fire. Turco has been flat out great. Like Missy Misconduct said, the addition of Brad Richards at the deadline brings first-rate veteran leadership to the locker room (he also has 11 points in 13 playoff games this year). And I think its fair to say that everyone loves the play of Brendan Morrow.
Feeney: Who, as you know, is the son-in law of Canadians Coach Guy Carbonneau.
Crasher: Mr. F…F…F…FEENAY!!! What are you talking about?
Feeney: Maybe if you spend less time working on your Feeney Call with Mr. Hunter and more time doing your reading you would know that.
Crasher: Sorry, Mr. Feeney
But yea, Brendan Morrow is really good. Beyond scoring the clincher against the Sharks, Morrow has 12 points in the 13 games including 8 goals. Look for him to continue his great play.
Of course, if Dallas wants to have a chance they will need great play from their blue line. I think Norstrom and Zubov still have plenty in the tank and if they can come up big for Dallas, the Stars could find their way to the Cup finals.
This will definitely be the best series of the playoffs so far.
Feeney: and your prediction?
Crasher: Detroit in 7. Dallas really needed game 1.