It's a rainy Friday and one of us wishes he stopped taking the coupons for free Malibu drinks at the bar last night. Those damn

Malibu

girls and their free beads! I feel taken advantage of….

Anyway…
As always there is a lot to talk about this week, so let's get right to it.

Net Crasher: We are a quarter of the way thought the baseball season and Joe Girardi's Yankees find themselves in more turmoil than pledge night at Game Misconduct's sorority house. They are currently in last place in the AL East, Ian Kennedy still hasn't put it together, and their offense is obviously struggling. Willie Randolph is on the hot seat across the river, but is Joe Girardi also?

I don't think so. If you recall when Posada and A-Rod went down all of the commentators hedged their expectations and just said the Yankees need to stay afloat until A-Rod and Posada come back. And that's exactly what they have done. Since A-Rod hit the DL, they have played a challenging schedule that included Detroit, Seattle, Cleveland, and the surging Tampa Bay Rays, and came out one game under .500. Girardi hasn't hesitated in shaking things up to make that happen.


You certainly can't blame him for complacency! The Yankees have used 37 different line-ups in 42 games to try to compensate for their massive loss of power. Pete Abraham's blog gives a great stat that is worth nothing: The catchers (Molina, Moeller, Stuart) and third basemen (Ensberg, Gonzalez and Betemit) are 17 of 92 (.185) with 5 RBI since Alex Rodriguez and Jorge Posada went out with their injuries. How do you compensate for that?

Similarly, the Yankee starting pitching has been not near what was expected, but Girardi's management of the Yankee bullpen has been fantastic. As I previously noted, they have only 6 of the Yankees 22 losses and a 3.24 ERA.

So let's reserve judgment on Joe until he screws something up that he actually is in control of.

Game Misconduct: I'm not a big baseball guy, but when Girardi was hired I was legitimately excited. I was hoping he would turn around what seemed to become a retirement community
center. Yes they Yankees two biggest offensive weapons from a year ago are hurt, but there's no buzz surrounding this team. It's obviously not in his control, but the Yankees need to get younger throughout their lineup, and while IPK and Philly Franchise, Joba, Cano, and Melky are a start, they need to continue developing their own prospects or acquiring younger talent. That being said I absolutely LOVE Joba's enthusiasm. It's about time someone showed some passion and emotion out there. I feel like this argument is very old school versus new school, much like NHL goal celebrations. I, for one, am extremely supportive of players showing us that they love what they do and they're excited when they succeed.

NC: I think Girardi has brought energy. He's cracked down on these veteran players with everything from more strenuous spring training to banning candy from the locker room. They know who is boss. Also, the Yankees aren't really as old as people think. Giambi is 37, Posada is 36, and Mussina is 39 but that's about it really. (Mariano is 38 but I don't think we need to worry about him). Jeter and A-Rod are 33 and 32 respectively and easily have 5 superstar years in them. It's about underperformance. Damon, for example, is a bad leadoff hitter having not hit over .300 since joining the Yankees with an OBP never cracking .370. I don't need to harp on Giambi's problems but you get my point. If Girardi has one fault, it is expectation that these players will go back to their old ways. When the lineup is back in order, Damon needs to drop to the 9 spot to make room for Melky who should lead off.

As for Joba, rock on! That's his style. As long as it stays on the field – what's the problem? I think hitters should be more concerned about not letting Joba strike out. I think this is different from Manny Ramierz staring at one of his homers.





GM: Alright let's change gears to the NHL. Not much to report on the conference finals. The Stars and Flyers are both hanging on by a thread. Let's take a shot at the awards. We're going to bring in our old friend Sean Connery to give us a hand…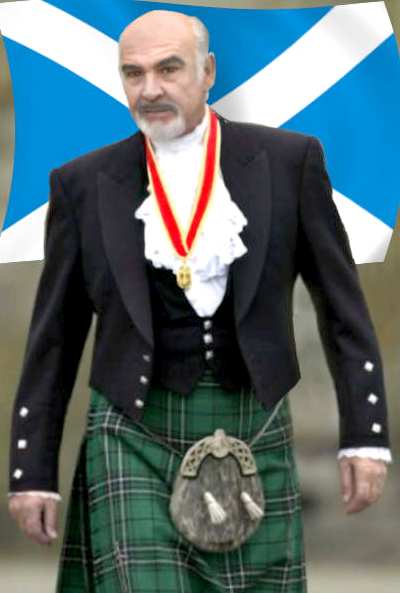 Sean Connery:

You'll rule the day you crossed me, you two. While I am not busy trying to "entrap" Catherine Zeta Jones I have been enjoying the always exciting National Hockey League. I, of course, watch only on Canadian television because only Don Cherry dresses better than I do. Let's start with the "holy grail"…HAHA…of individual awards: The Hart Trophy. And the nominees are…

Hart Trophy (MVP): Alex Ovechkin (Washington), Jarome Iginla (Calgary), Geno Malkin (Pittsburgh)


GM: Thanks, Mr. Connery. Before the start of the playoffs, much was made about who would win this award. Would Ovechkin win it without the Capitals making the playoffs? The answer was yes at that point, and after miraculously winning the Southeast Division title the answer remains an emphatic YES. Iginla and Malkin had fantastic seasons, Iginla doing what he always does, and Malkin showcasing that Sid the Kid isn't the only superstar in Steel Town. But this was the year for Alexander the GR8 (Terrible nickname, thanks CCM) who almost scored 70 goals this year. If he had done so I would have been out 20 bucks so I'm glad he didn't.


NC: I am with ya there, Misconduct. You win the Art Ross and the Rocket Richard Trophy and the Hart is in your future.

Sean Connery: Way to go out on a limb there, Mr. Crasher. By the way, I noticed you are sitting down for this discussion. What's the matter sweaty? Have a date last night?


Vezina Trophy (Best Goalie): Martin Brodeu (New Jersey), Evgeni Nabokov (San Jose), Henrik Lundqvist (New York)

GM: I think all of these goalies had phenomenal years, but JS Giguere deserved to be a finalist. After winning the Cup in June, he came back to lead the Ducks through the regular season without Niedermayer and Selanne and posted great numbers. He was their season long MVP and deserved to be recognized by the rest of the league. Broder and Lundqvist were finalists yet again due to the Eastern bias, but Nabokov should walk away with the hardware.


NC: We agree again. Gigy definitely had a good year, but I like the nominees. All three goalies that got the nod were really the secret to their team's success. Lundquist was streaky at times, but posted a league leading 10 shutouts in front of a flimsy Ranger blue line. Brodeur is Brodeur – strong play and a league lead in games played. But, ranked number one in wins and games played and third in goals against, I got to go with Nabakov


Sean Connery: and I'll go with the penis mightier! Let's move on to the Norris trophy, of course named after the storied Texas Ranger.

Norris Trophy (Top Defenseman): Nick Lidstrom (Detroit), Dion Phaneuf (Calgary), Zdeno Chara (Boston)

GM: This won't even be close.

Sean Connery: That's not what your mother said last night!

GM: What?? Anyway, Lidstrom is absolutely timeless and doesn't slow down. Phaneuf will win one once Nick retires but til then this is his award to lose. Chara proved last season was due to Dave Lewis' coaching and not his physical abilities. Phaneuf wins in the end by getting to hook up with Elisha Cuthbert, but if she's slept with Sean Avery, and Dion sleeps with her, does that mean that he's kind of boning Sean Avery? I've got mental images in my head and it's not a pretty picture... I'm thinking Lidstrom wins this one too because he probably married some Swedish volley ball player. God Bless the Swedes

Sean Connery: Not a fan of the ladies are you Misconduct?

NC: I don't think one can understand how good Nick Lindstrom is until you watch him play. He
is a phenomenal player. I don't think I have ever seen him make a mistake on the ice. Granted he is on the best team in the league with Brian Rafalski at the other point, but his 70 points and +40 rating can't be ignored. Not only did he lead the league in both, but he dominated the league in both. (5 points and +10 ahead of the next D-Man on the list). Phaneuf's future is bright but he'll have to wait for the post-Lindstrom era to shine. In the mean time, he should enjoy the girl next door. For the sake of all men everywhere. By the way, I wouldn't be surprised if Avery were somehow involved with the Miley Cyrus pictures.
Sean Connery: Now how about the young lads? The Calder Trophy…
Calder Trophy (Top Rookie): Pat Kane (Chicago), Nick Backstrom (Washington), Jon Toews (Chicago)
GM: This year was a revival of hockey in Chi-town. With the Sex Cannon
Sean Connery: Yes?
GM: Not you, old man! With the Sex Cannon basically giving away the football at every offensive possession, Chicagoans were looking for a young, fresh, and sexy team to root for, and HORRY KOW did they get just that. The Blackhawks are no longer a joke and these two youngsters have led the way. Toews who scored a ridiculous goal (runner up to this one) against Colorado looks like a more physical Joe Sakic type player, he'll be captain by 2010. Kane and Backstrom had better offensive numbers, and Toews missed some time due to injury but he's still my pick. Carey Price should have been a finalist.
NC: Price splitting time with Huet certainly hurt his chances, but I definitely expect big things out of him in the future. Mr. Connery do you know what the name "Carey" means?
Sean Connery: Suck it, NetCrasher.
NC: It means "castle-dweller." Coincidence? I don't think so. Price is a brick wall. With Kane and Towes, Chicago's future has to be looking good. But for now, how about Backstrom? He finished only behind Kane with 69 points and led all rookies with 55 assists. He also had a solid +13 rating and scored 4 game winning goals (tied with Kane and a few others there). But one cannot ignore the huge lift, he gave the team. Also with 4 goals, 2 assists, and an average of 20 minutes of ice time per game in the playoffs, Backstom was a huge benefit to his team's surprising success.
Well, that's it for this week. Plenty more in the days to come including NCAA Lacrosse, a Stanley Cup Preview, Sean Avery's muffin recipe, and the Willie Randolph's rough season.
Sean Connery: That's the way your mother likes it!